His Highness Sheikh Mohamed bin Zayed Al Nahyan, Crown Prince of Abu Dhabi and Deputy Supreme Commander of the UAE Armed Forces, arrived in Pakistan on a one-day visit on Thursday afternoon.
Sheikh Mohamed was received by Prime Minister Imran Khan at the Nur Khan Airbase in Pakistan.
As a friendly & welcoming host, PM @ImranKhanPTI drove HH Shaikh Mohammad Bin Zayed Al Nahyan, Crown Prince of Abu Dhabi to Prime Minister House, marking strength, friendships & fraternity #PMImranKhan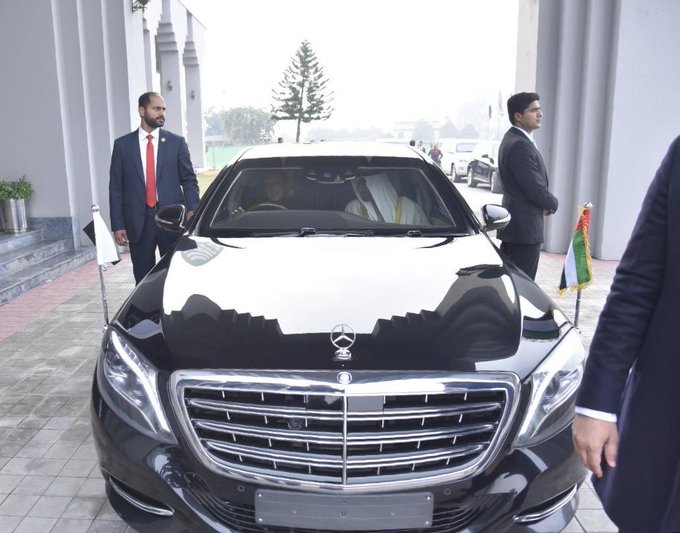 4212:14 AM – Jan 2, 2020Twitter Ads info and privacy75 people are talking about this
The prime minister himself drove Sheikh Mohamed in a Mercedes to the Prime Minister House, where the meeting between the leaders took place.
During the meeting, the leaders discussed on bilateral ties and ways to enhance cooperation.
وزیراعظم عمران خان اور ابو ظہبی کے ولی عہد شیخ #محمد_بن_زید النہیان کے درمیان ملاقات ۔۔۔۔دوطرفہ تعلقات سمیت باہمی دلچسپی کے امورپرتبادلہ خیال ۔

#UAEPakistan #الإمارات_باكستان#PMImranKhan102:32 AM – Jan 2, 2020Twitter Ads info and privacySee عبدالله العيدروس's other Tweets